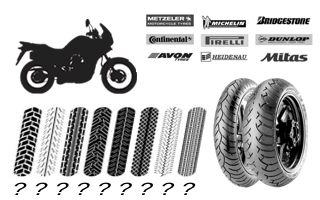 Az információ ezen az oldalon van az Ön csak tájékoztató jellegű. Te teljesen lemeríteni myNETmoto óta semmiféle felelősséget kapcsolatos, vagy annak következtében, követelések magatokat, és / vagy bármely harmadik fél esetleges kártérítési követően a gumiabroncsok felszerelése nem megengedett.
METZELER Z8


The new Z8 will replace the Metzeler Z6 ..... - NEWS presetation June 2010 >> [...]
METZELER M5


The new Sportec M5 Interact, the perfect all-round supersport tire from Metzeler boasting innovative Interact Technology. This all-encompassing approach to development perfectly matches the tire's structure, 0°-steel belt, tread desig [...]
(incl. Áfa exkl. Szálitás)
PIRELLI ANGEL


Pirelli Angel ST will be a single compound tyre, with more of a focus on the same EPT, or Enhanced Patch Technology, thesis that the Diablo Rosso sport tyre was centralised around last year.
(incl. Áfa exkl. Szálitás)